When you are eligible for retirement depends on your months of credited service, your age, and whether you are a general member, a public safety officer, a member with mixed general and public safety officer service, or an elected or appointed official. There are several types of retirement, each with its own eligibility requirements.
Whether you're planning to retire in a few months or a few years, you should start thinking about what you need to do to make your transition into retirement as smooth as possible. Use the Retirement Planning Checklist to prepare.  This checklist will guide you toward retirement by identifying the steps and documents needed to prepare for retirement, including information about completing PERSI's Retirement Application Kit.
If you are ready to retire, contact the PERSI Answer Center for an official estimate, which entails a review of your account to determine your options. The estimate from your annual statement or from a PERSI workshop is not acceptable for this purpose. If you do not have an estimate from PERSI, PERSI cannot accept your application and you may need to fill out the forms again.
Remember, your monthly retirement benefit is based on your date of retirement and the following formula: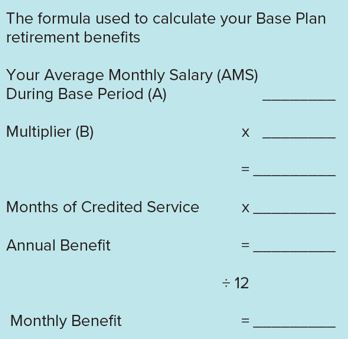 PERSI requires a completed Retirement Application Kit in order to retire and begin receiving your benefit. Use this kit to apply for retirement; to name a Contingent Annuitant if you choose Option 1, 2, 4A, or 4B; and, if desired, to authorize the direct deposit of your PERSI benefit payments to a financial institution, and to direct PERSI to withhold Federal and/or State of Idaho taxes.